The Technology Centre provides audio-visual and computer peripherals for rent by the day or week.
convenient in-town location.
lowest rates in the region.
delivery and pickup available.
technical support and installation.
Digital Projection Equipment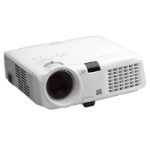 We have multiple digital projection units to suit both large & small rooms and varying lighting conditions. Units are easily connected to any computer and are compatible with most Windows and Mac operating systems without any configuration. Our technicians can verify proper connection beforehand if required. These are very simple to use and do not require an audio-visual equipment specialist to use.
Specifications
image sizes up to 8 x 12 feet.
image reverseal feature for rear-projection screens.
resolution 800 x 600 or 1024 x 768 and various widescreen formats.
operate with virtually computer, VCR or DVD player.
light-weight 6-8 lbs.
stereo audio input and ourput for connection to external speakers
Additional Information
A 25′ monitor cable and wireless transmitter are available for use in larger halls. The wireless transmiiter can reach distances up to 200′ dependent on surroundings. A remote control for hands-free operation is also availble.
Projection Screens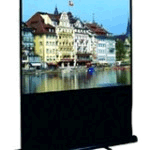 We have both traditional "tripod" style and "tv" style screens in 7-foot and 5-foot widths. These newer TV-style screen rises from the floor and has a 30″ lower black-panel. These screens are portable in any standard vehicle.
Monitors & Flat Panel Displays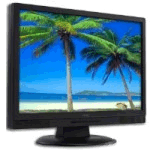 We have flat-panel LCD displays for rent to special events, trade shows and meeting. They are just the thing you need for dynamic advertising, play video or display computer presentations.
Specifications
varying sizes 25″ – 46″
connect to computers, DVD and other players
standard VGA, DVI & HDMI inputs
with/without speakers.
1080p resolution
Peripheral Devices
We carry a variety of special devices and equipment that you woud only need on a sporadic basis.
high-resolution film scanner
high-speed desktop document scanner
portable DVD and CD drives/burners
audio/video transmitters
Camera Equipment
We have a variety of old and new digital & film cameras and a selection of lenses for your photography project. Equipment is rented on a daily or weekly basis and is priced individually. This is a useful alternative if you need an extra camera for a job, need another lens not in your gadget bag or don't have a camera suitable for the job.
Here is a short list of what we have.
Canon  T2I, 7D, 5D Mk-II
Nikon – D100, F90
Olympus 4/3 format – GF1
Nikon – FT & Nikkormat
Olympus – E20
Fuji – Finepix Pro (Nikon compatible)
A variety of lenses for the above.