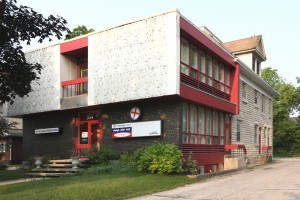 Located in the centre of downtown Owen Sound and close to the main street, law offices and banks the Technology Centre offers a pleasant working environment in this unique high-profile building. With over 7,000 sq. ft. of office space we offer a great location at an affordable price and a variety of working offices for rent by the day, week or month.
Our rental rates are all-inclusive, include use of our audio-visual boardroom and additional meeting rooms on the main and second floor. A common-area kitchen is available for all tenants.
The Technology Centre offers an opportunity for you work away from home a few days or weeks a month. We can also serve as a temporary location if your existing office is under repairs and you need to relocate for a short period of time.
Office may also be leased in which case, the term is usually 60-days and renews monthly – no long-term lease commitment.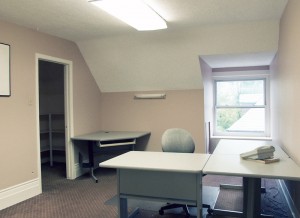 This 1-2 person office of approximately 160 sq. ft is located on the second floor next to a waiting area and common kitchen.
Available Now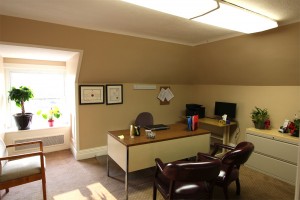 This 1-2 office of approximately 180 sq. ft is located on the third floor, next to a common waiting area and washroom.
Available Now
Executive office on second floor with large windows, built-in bookcases and variable track lighting. Large windows and adjoining storage area. This office is unfurnished or include large desk. Central air conditioning all utilities & parking space included. Approximately 200 sq ft.
Available June 1st.
This slideshow requires JavaScript.